External Artifacts
Introduced support for publishing and fetching artifacts from an external artifacts store.
Better encryption
We have moved towards using AES for encryption/decryption over DES. All DES cipher-text in cruise-config.xml will be migrated to AES cipher-text. Support for DES is retained to handle DES cipher-texts configured in config-repos. DES encryption is deprecated, check the deprecation notes for more details.
Data Sharing
GoCD now shares some (non-personally identifiable) information about the instance, to help improve the experience and performance. All GoCD system administrators will see a notification message about it and will have a chance to review the information sent and make a decision about it.

New Loading... screen
The GoCD server now starts up into a "Loading …" screen early on in the process. So, if you have scripts waiting on the port to be open, instead use the server health API, which will succeed with an HTTP status of 200 once the server is up. Till then, it'll fail with an HTTP status of 503.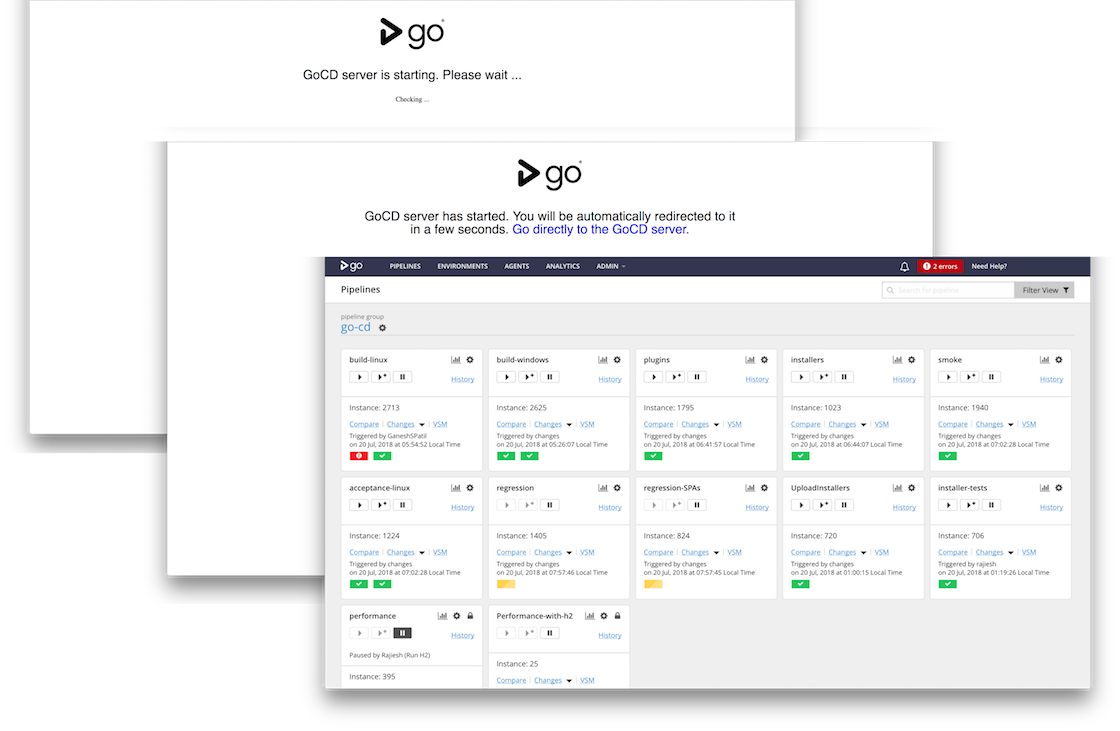 API Improvements
Bug fixes
Breaking changes
Deprecations
Contributors
Aditya Sood, Akshay Dewan, Akshay Mayekar, Ankit Srivastava, Ankur K, Aravind SV, Bhupendrakumar Piprava, Ganesh S Patil, Isabelle Carter, Jyoti Singh, Ketan Padegaonkar, Kiera Radman, Louda Peña, Lubaina R, Mahesh Panchaksharaiah, Marques Lee, Naveen Bhaskar, Pranav Bansod, Rajiesh N, Senthil R, Tomasz Sętkowski, Varsha Varadarajan, ralcini
Note
A more comprehensive list of changes for this release can be found here.
Have ideas and want to contribute? Need some help getting started? We're here to help. Reach out to us at support@thoughtworks.com.
Found a security issue that needs fixing? Please report it to https://hackerone.com/gocd
Please report any issues that you observe on GitHub issues.